International newsletter library Gouda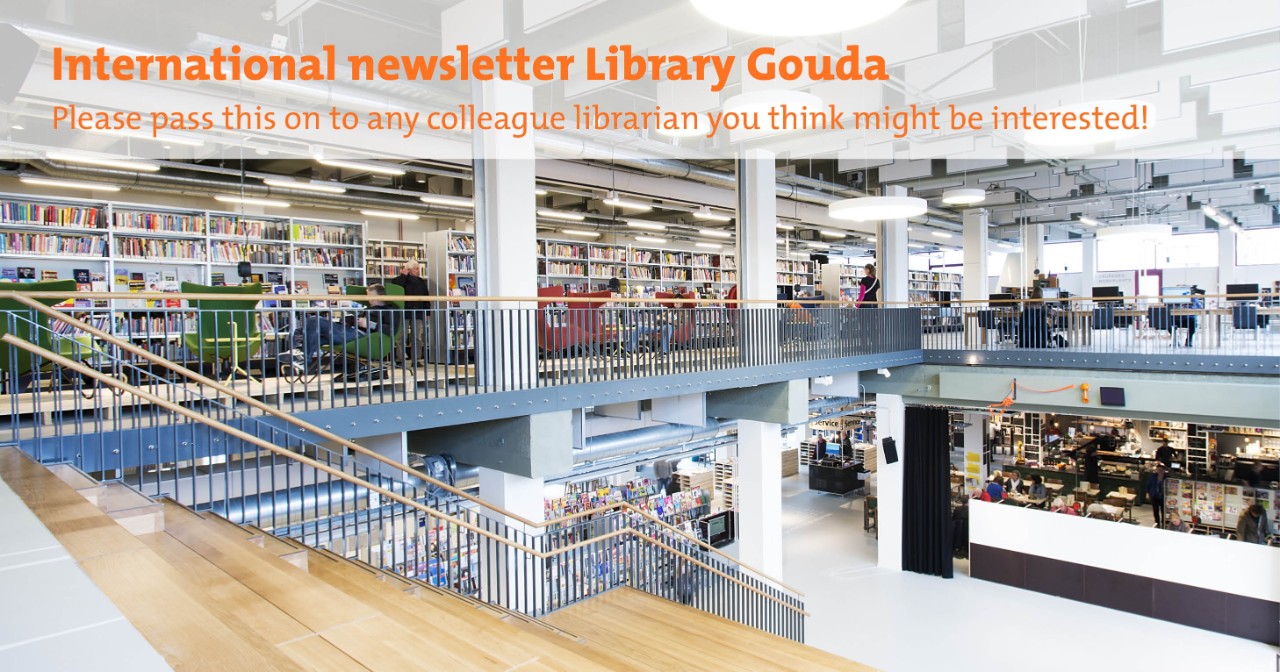 Become our 'Librarian in Residence'

Our library in the City of Gouda has been awarded the title 'Best Library of The Netherlands 2015/2016'. On March 14th another library will get this wonderful award. In this newsletter we want to look back on what has been an amazing and inspiring period for all of us working here, in Gouda. And, of course, we're also looking forward to the coming years, with lots of new ideas.To strengthen our international relationships in the coming years we are establishing a Librarian in Residence program for ten days every November (2017/18/19). This international program will culminate in a symposium in 2020, for which the 3 consecutive librarians will be the guests of honour.
Interested? Send an email to e.staal@gouda.org and you will get the necessary information.

'Librarian in Residence'​ is sponsored by Betty Blue B&B, Kruim (food and drink), the city Gouda and OCLC.

Inspiring visits from all over Europe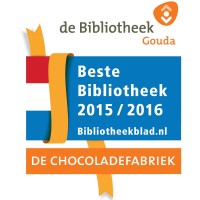 The past year wouldn't have been nearly as amazing without the attention and sincere support from you, our fellow librarians all over Europe. We especially want to thank our colleagues from Germany, Denmark, Belgium and France for visiting our library. It was a delight to welcome you and we hope that you enjoyed your time with us and profited from your experiences. Your visits have inspired us a great deal. To give two examples of programs developed directly from your participation: we have launched our coding & robot learning program after talking to the Library of Köln and we have redesigned our cultural programming after discussions with Julie Calmus, a French librarian from Bordeaux. Both of these exciting programs have been enthusiastically received by our local community.

Be our 'Librarian in Residence' & contribute to our cultural program
We would very much like to strengthen our international relationships in the years to come. This is why we are going to establish a Librarian in Residence program from 2017 until 2019. For three years in a row you will be cordially invited to challenge yourself by submitting the best proposal for 'Library Programming of the Future' and become our Librarian in Residence for ten days every November (2017/18/19). Your travel expenses and stay in Gouda will be taken care of and a personal assistant will be provided to aid you in setting up your own program.
Interested?
You can apply by sending a letter, before August 1st, to the following email address: e.staal@gouda.org. Please describe your ideas in no more than 1000 words.
This international program will culminate in a symposium in 2020, for which the 3 consecutive Librarians in Residence will be the guests of honour. 'Librarian in Residence' is sponsored by Betty Blue B&B, Kruim (food and drink) and the city Gouda.

Group visits
For those of you who haven't yet visited our Library in Gouda, you are still very welcome to join us. Our aim is to remain as inspiring as we were for the last three years in our new location in what is called the 'Chocolate Factory'.
The cost for a group visit and tour is €250, for which you will receive a personalized presentation and discussion with our management team and an in depth tour of our library. Send an e-mail to visit@gouda.org and your visit will be arranged!

What's next? Gouda, Library of the Future
In the past year we have hosted almost 500.000 visitors, maintained a significant core membership, and we have broadened our cultural and social network within the city of Gouda, but we're not going to stop here.
In the years to come we will further develop to being Gouda's central workshop for language and storytelling. We will achieve this by extending our youth program concerning robotics. Programming, robotics and coding are the languages of the future and in our view a library is the best place to explore these languages from an early age. From toddlers who learn to program with our beebots to young adults building complete robot worlds with their own logic: anything is possible in our Workshops of the Future.

Integration of multimedia
We are also focusing on integrating different forms of storytelling and the use of multimedia in our library. We have set up a cooperation with the local media group in Gouda (radio, television, internet and newspaper). With this new partnership, we can integrate radio & television in our library, enhance the exploration of documentaries and film even further, as well as teaching and promoting the use of the green screen by our visitors.
Additionally, we are investing in new digital possibilities to present and promote our collection to the public. We are developing a program to give better, personalized suggestions for further reading after every book that is returned by collating data based on reading patterns and user preferences.

Language skills
Last but not least, our library will play a key role in ensuring that everybody in our community has enough language skills to keep up with the pace of modern day society. We will invest in reaching out to members with low literacy and offer programs to help them upgrade their language and digital skills