Newsflash - Librarian in Residence
First Librarian in Residence: Lucia Laschalt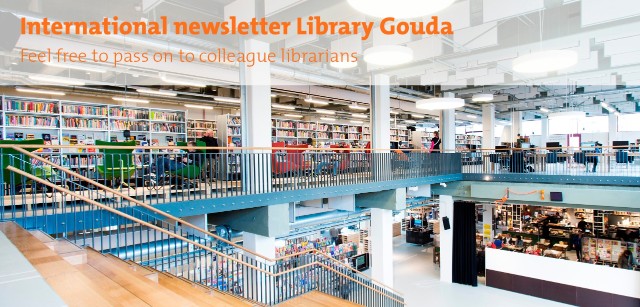 Dear foreign colleagues,
Last month, from November 10th-19th, we welcomed Lucia Laschalt from Vienna, our first Librarian in Residence at the library in the city of Gouda. We organised a ten day program to understand the complete 'landscape' of the Dutch line of libraries, with visits to OCLC in Leiden, the CPNB in Amsterdam, the NBD in Zoetermeer and several libraries throughout the country (The Hague, Rotterdam, Tilburg, Utrecht and more).
Here is what Lucia told us:
'I would definitely recommend becoming the next Librarian in Residence to all colleagues! I had very interesting visits all over the Netherlands and was able to meet all those wonderful and open-minded people, that was a great inspiration for me. I think it's very important to look beyond one's own nose and that's what I have done as Librarian in Residence in Gouda.
I really can't name the most impressing library visit. Altogether I visited seven libraries and learned about their special concepts. The Kennismakerij in Tilburg is a perfect example of a good working makerspace. Also the library at the station in Rotterdam has a very exciting concept in this new location. To involve people in the planning process of the new library in Utrecht in such an intense way is also a great approach. To learn about the CPNB - Collective Propaganda for Dutch Books - and their huge marketing campaigns was very impressive.
Those were just a few inspiring examples out of my program and I can assure you that there were a lot more. I counted the libraries I visited, kilometers - 102,42 by foot, hours in the train - 10h 34 min, but you could not possibly count all those wonderful and valuable talks and ideas. I have taken them with me and they will accompany me in the future.
I was very impressed about the connection and cooperation of the different institutions in the Chocoladefabriek. To have an archive in a public library is something I wouldn't have thought of. But also to integrate robots in Goudas children's programming was very inspiring for me.'
Our librarian is automatically welcome at the OCLC Emea Regional Council Meetings in Europe, as OCLC is sponsor of our program. This year the symposium will take place in Edinburgh, February 20th/21st 2018 (travel costs and symposium fee taken care off)
Next year we will gladly invite a new librarian in November, we will start a new essay competition in the Spring of 2018. Please stay tuned through our newsletters and forward them to colleagues who might be interested in this international exchange.With holiday greetings and the best wishes for the New Year,
Erna Staal

For the sake of completeness: here is the link to the previous newsletter.
The Librarian in Residence program is sponsored by the city Gouda, Betty Blue, Kruim Eten & Drinken and OCLC.